I know my last update really harshed everyone's mellow. But now pay heed, friends, for this is a joyous day. For I have made delicious deep dish pizza and I am going to tell you how I did it!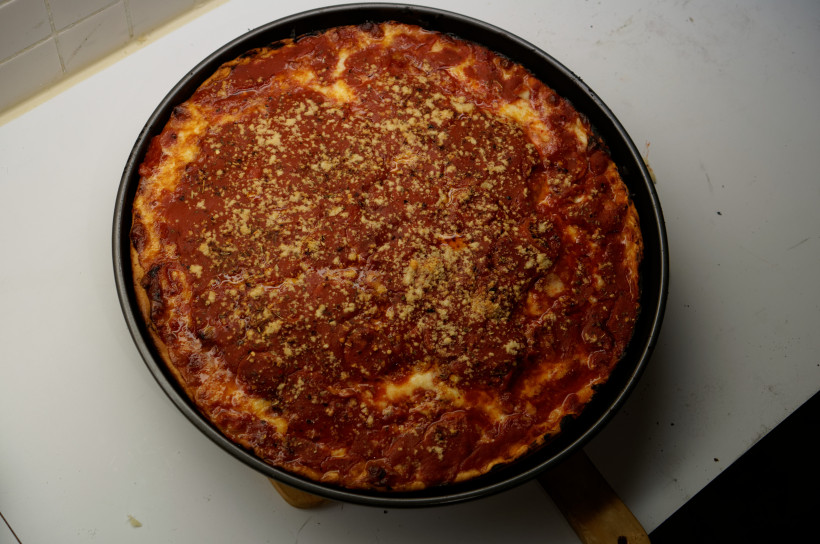 I'll apologize in advance for over-explaining things. I had to google what 'proofing yeast' was before I made this.
First, the dough recipe. You can adjust the proportions of ingredients if you like. Use the Deep-Dish Pizza Dough Calculator to figure out the exact amount of each ingredient. For reference, I made this in a 14″ pan that was 1.5″ deep. I think the 'thickness factor' I chose was 0.12 or so. Given my dough proportions, these are the ingredient amounts I used:
Flour Blend* (100%):
Water (47%):
ADY (0.6%):
Salt (1%):
Olive Oil (6%):
Corn Oil (12%):
Butter/Margarine (6%):
Sugar (1.5%):
Total (174.1%):
459.94 g  |  16.22 oz | 1.01 lbs
216.17 g  |  7.63 oz | 0.48 lbs
2.76 g | 0.1 oz | 0.01 lbs | 0.73 tsp | 0.24 tbsp
4.6 g | 0.16 oz | 0.01 lbs | 0.82 tsp | 0.27 tbsp
27.6 g | 0.97 oz | 0.06 lbs | 6.13 tsp | 2.04 tbsp
55.19 g | 1.95 oz | 0.12 lbs | 4.09 tbsp | 0.26 cups
27.6 g | 0.97 oz | 0.06 lbs | 5.84 tsp | 1.95 tbsp
6.9 g | 0.24 oz | 0.02 lbs | 1.73 tsp | 0.58 tbsp
800.76 g | 28.25 oz | 1.77 lbs | TF = 0.1352
*The flour blend was 80% unbleached all-purpose flour, and 20% semolina.
First I put the active dry yeast in a shot glass with 1oz of warm water (100°F). I mixed the flours, salt, and sugar together while waiting for the yeast to foam up. Then I added the ADY mixture and the rest of the water to the dry mix, and mixed it together for a short bit. Then I added the oils, and told my mixer to go to town with a bread hook for just over ten minutes, until there weren't any weird surface irregularities left. (I overmixed! See note at the end!) I added the softened butter during the last 30 seconds, so that it doesn't fully mix unto the dough. Which is what you want.
I put the dough ball into an oiled bowl, and left it out on my counter with some plastic wrap on top of it for five hours. I had to knock it down twice during that time. I also had to google what 'knocking down dough' meant. After it was ready to go, I tossed the dough ball in my deep dish pan, after spraying a bit of PAM on the bottom of the pan. Protip! Buy 'grilling' PAM and not 'baking' PAM. Baking PAM has a weird artificial sugar cake flavour to it. It is weird trust me.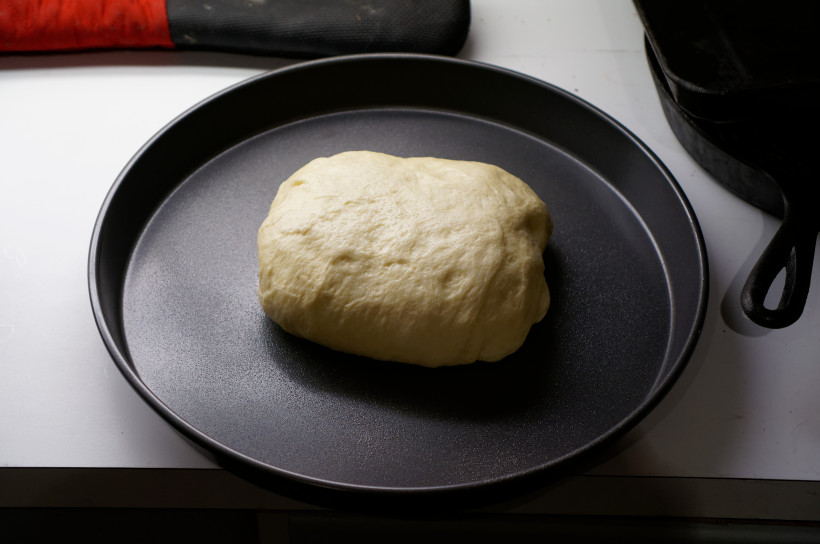 I pressed out the dough from the centre to the sides of the pan, so that there was an even, flat layer of dough on the bottom of the pan. Then I took the edges and pinched the dough as high up the sides of the pan as I could. I made the sides as thin as I could without having them collapse. They don't need to be structural, they're just keeping the sauce in. It took a few passes to get them to stay.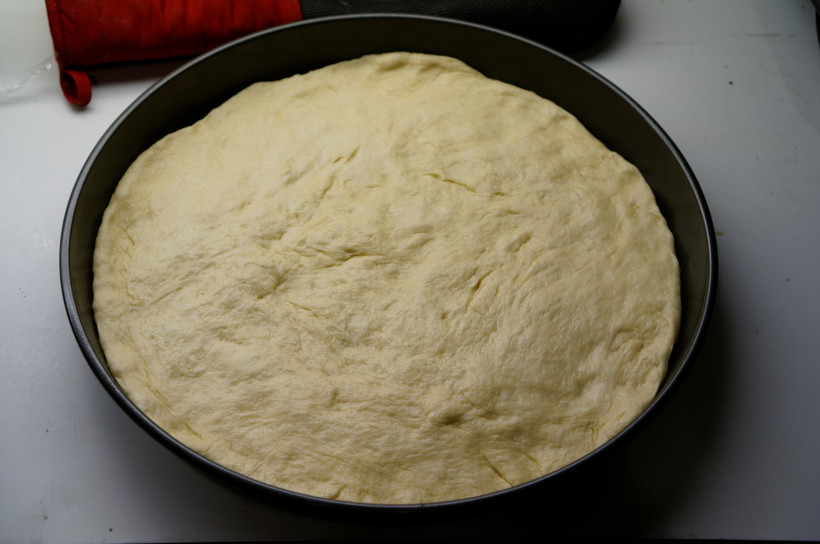 After the dough was all pressed out, I covered the bottom of the pan with sliced whole-milk mozzarella. I used just under a pound and it was a good amount. I also added a handful of provolone slices on top of the mozza to top it off.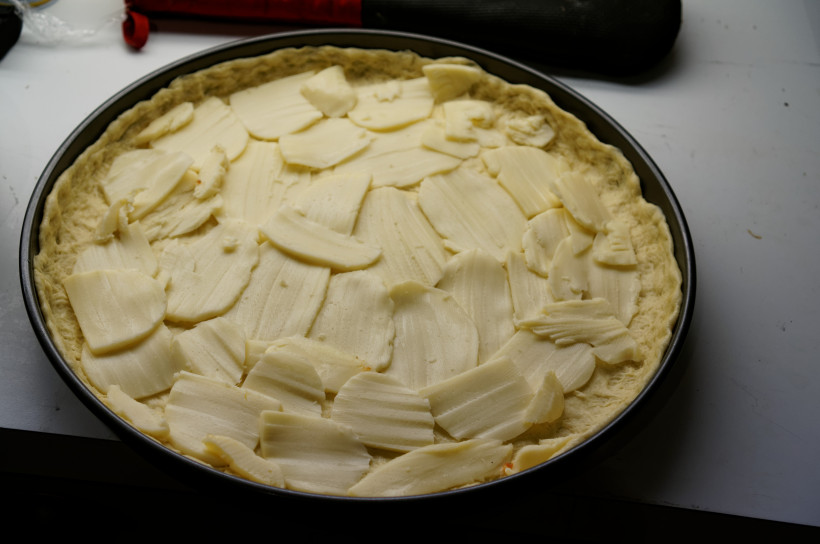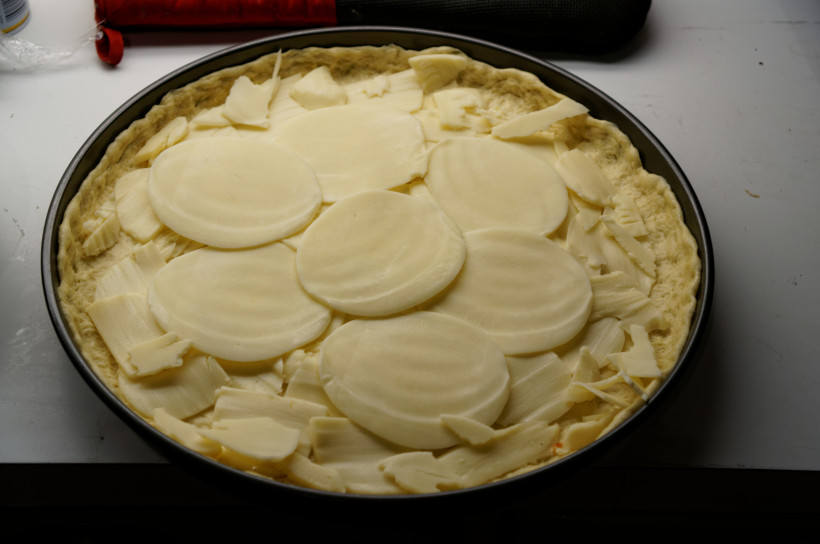 I sliced open three italian sweet sausages I got from the deli, and spread the meat around the pan. Next time I'll use a bit more. I also sliced up some pepperoni and added it to half of the pizza because of YOLO.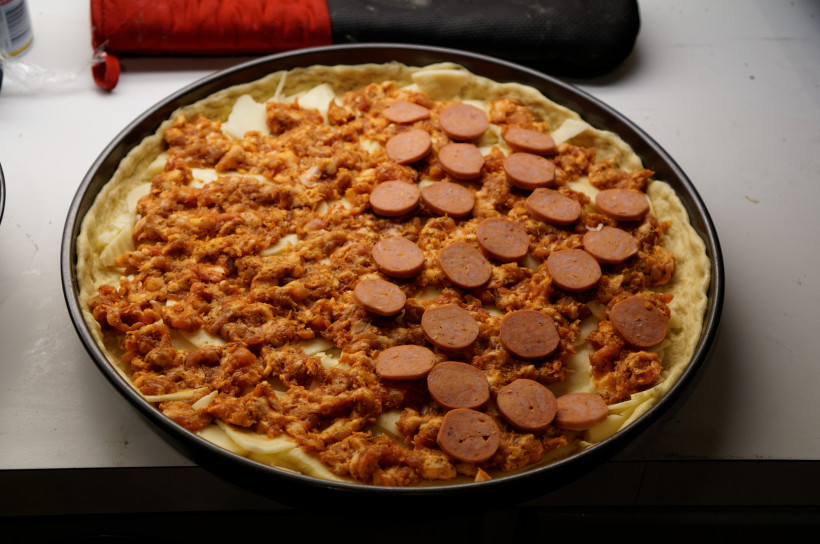 I added the sauce, which was a tall glass bottle of pureed tomatoes. Ingredients: Tomatoes. I added some seasoning to the top (peppers, garlic, basil, oregano, salt, pepper, etc), and then a handful of parmesan cheese.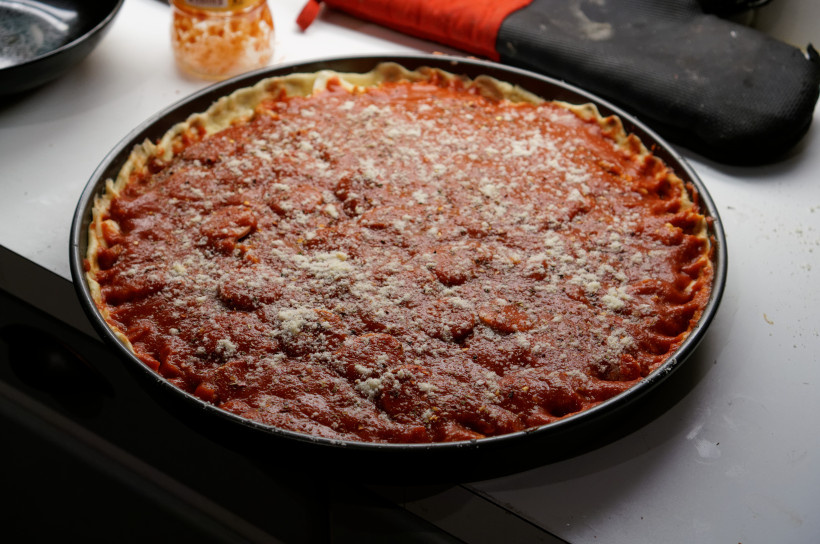 MEANWHILE
I preheated the oven an hour earlier to 480 with my pizza stone inside. I tossed the pizza in, and lowered the temp to 450. After 35 mins I checked on it, and it looked like it needed a little more time, so I rotated the pizza and gave it another 8 minutes or so.
After that, I took the pizza out of the oven and let it stand for 5 minutes. Then I somehow extracted the pizza without destroying it, chopped it up, and everyone's life instantly became at least 12% better.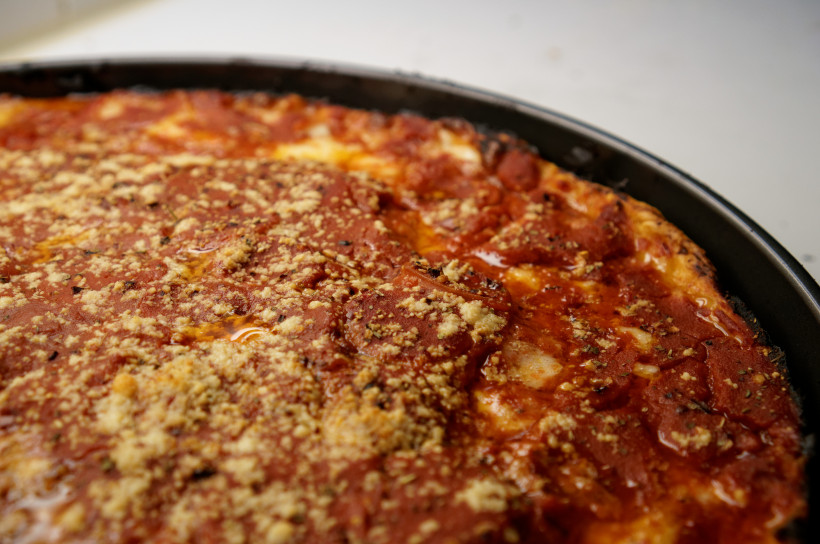 Post-pizza critique: Holy hannah this was good! Especially for my first time making dough. There's room for improvement on the dough, it didn't stretch super-evenly. But I imagine that will come with time. There was also a lot of grease when it came out of the oven, but after a bit of dabbing with paper towels it was fine. Next time I might use leaner sausages, or cheese with lower milk fat content. Beyond that, I don't know if I'd change much. I'll try a different tomato sauce to get something a bit less sweet, but that's a minor personal preference.
If I ordered a deep-dish in Chicago and this is what they served me, I would be at that pizzeria every time I was in town.
Update: I am told by those who know that I overmixed my dough, and that I shouldn't mix it for any longer than 60 seconds, tops. The more you know!