When I was ten or eleven years old, I had a Pennysaver paper route. It was the worst thing. Every Sunday morning they drop off a bundle of papers (98 in my case) and a dozen bundles of advertisements. So you open up all the bundles and separate out all the different advertisements. Then you open up a newspaper and put one of each of the dozen different flyers inside of it. Stick the finished newspaper in your little newspaper cart, and repeat 97 times. I actually cannot even begin to describe how miserable this is. It takes hours, and there's a crazy amount of paper strewn everywhere and it is a total disaster zone from start until finish.
It was through this weekly process that I first learned to recognize the emotion we call 'dread'.
After you've got your little newspaper dolly full of the freshly-stuffed papers, you wander around the neighbourhood and drop them off in people's mailboxes, often while people inside yell at you about how they don't want more junk mail. Because who does, right? Also, the dolly doesn't fit 98 stuffed newspapers, which means that you need to go back home in the middle of your route at least once to re-up. Eventually you deliver all 98 newspapers to all 98 homes, you get back home hopefully before the sun sets, and you phone them to let them know that it's all finished.
This is all a lot of responsibility for someone in grade 5.
Once a month or so, we'd get these 'specials' where there'd be a full-on second newspaper to deliver along with the first. So you pack your cart with the stuffed newspapers and the special newspaper (which takes up twice as much cart space, which means you need to re-up twice as often) and try to jam both of these things in people's mailboxes while they yell at you.
One snowy and grey Sunday morning, I opened my front door to get the papers and saw we had a 'special' that week: Phone books.
There was a hill I had to climb on my route, and I remember trying to drag my stupid cart full of soggy phone books through this thick wet snow, crying all the way. My hands were red and raw from trying to pull the cart, and completely numb from the cold. I ended up leaving the cart there and going back home to ask for help. My mother's husband drove me out to the cart, picked up the phone books, and delivered them all himself — probably the nicest thing he ever did for me in the many years we lived together.
…
The worst part about all of this is that you make something like thirty cents per paper delivered. Not lucrative. After fees and whatever else, for a full day's work I would get a cheque for twenty-odd dollars. (Years later, I worked as a delivery boy for the Citizen and got cheques ten times that amount for a route a fraction the size. This is how I learned about 'exploitation'.)
But, at the time, twenty-odd dollars was a lot of money. And it was the first money I had ever earned myself. I took my first cheque across the street to the mall, cashed it in my TD Bank Junior Savings Account, and went to the bookstore where I bought the Calvin and Hobbes Yukon Ho! collection, mostly because I saw the title and thought it was cool that a comic might be about Canada.
Buying that book changed my life. I read every strip and bought every book after that. Calvin and Hobbes is a fucking subversive comic, man. Sexism, racism, environmentalism, war, death, friendship, bullying, love, an existential crisis, labour issues — they were all in those books. Before I learned about any of that stuff from Asimov or Aristotle or anywhere else, I learned it from Calvin and Hobbes.
I got a Calvin and Hobbes tattoo when I turned 19 because I was terrified of not being a teenager anymore. I was so scared that I wouldn't be as the same kind of person as I got older, and I wanted to leave a reminder to future-jairus that 'growing up' means whatever we want it to mean. And to leave myself something like a litmus test:
If, when I got old, I didn't like Calvin and Hobbes anymore — then I was right to be afraid as a teenager, because it would mean I had become someone else entirely.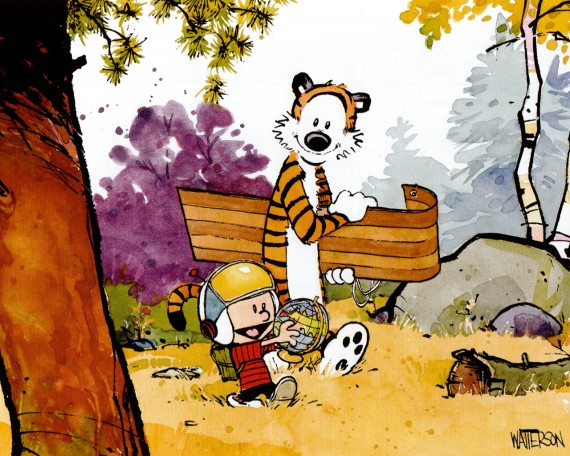 We'll never have to clean a plate
Of veggie glops and goos.
Messily we'll masticate
Using any fork we choose!

The timber wolves will be our friends.
We'll stay up late and howl,
At the moon, till nighttime ends,
Before going on the prowl.

Oh, what a life! We cannot wait,
To be in that arctic land,
Where we'll be masters of our fate,
And lead a life that's grand!

No more of parental rules!
We're heading for some snow!
Good riddance to those grown-up ghouls!
We're leaving! Yukon Ho!