Day 02 – Your first love, in great detail:
It was 1998, I had just turned nineteen, and her name was Amanda. She had come with a friend to a birthday weekend cottage trip, and I think I started to fall for her when I realized she knew all the samples on The Prodigy Experience. We stayed up all night together on the beach, and it wasn't long after that before we said 'I love you'.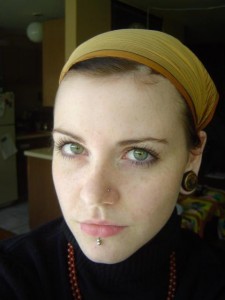 We spent a summer together doing all the things young people in love do, and then she moved to Peace River. Between long love letters and a week-long Christmas visit (via a 3-day Greyhound ride), we kept up a long-distance relationship for six months or so before it ended.
When I was a teenager, I used to lie like it was going out of style. It didn't matter what. Big lies, small lies, brilliant lies, stupid lies. I lied if I liked you, I lied if I didn't like you, I lied if the sun came out from behind a cloud, whatever. So when I realized that Amanda was The One, I wanted to make the foundation of our relationship an honest one. I told her about all the big, small, brilliant and stupid lies I had told her and all of our mutual friends. And, unsurprisingly (although quite surprisingly at the time) she said she couldn't trust me and that was the end of that.
Looking over my old (unpublished) website archives, I found this Valentine's Day entry from 1999:
"Good night, Jairus." she said through tears, and I knew we wouldn't speak again, not the way two people in love do.

There was a click, and the line went dead. This wasn't the way it was supposed to be, I thought. There was supposed to be a happily-ever-after, or at the very least a horribly cliched breakup, something I could write about in my diary.

But there wasn't. There was only the dull hum of the line, and me standing in the kitchen, feeling very, very much alone.
I mostly remember being stunned; I didn't quite get how being honest with someone could mean that they wouldn't trust you anymore.
Everything changed after that. I realized that if The Person Who Loves Me Most couldn't handle being close to me, then I was likely doing something wrong. I wrote an open letter to my friends, letting them know that I had lied to all of them, each and every one.
The fallout was exactly as bad as you might think it would be. Some people didn't care. Some people forgave me, but we were never really close after. Some people never spoke to me again. Some people screamed at me until they cried.
Years later, I rebuilt a friendship with Amanda. There were a lot of mea culpas, a lot of tentative steps to figure out if as adults we were interested in opening up again after caring so much about each other as teenagers. We spent time together on the rare occasions we were in the same city, dropped little notes to each other in tough times, talked about old friends and old stories.
Then, a few months ago, I said to her that rainbow parties are myth and moral panic and it was crazy to be worried about the dangers they pose to her unborn child, and she de-friended me on Facebook.
So that's nice.